What, Why and How - An Overview of Business Intelligence

Halodoc's a fast-growing Health-Tech company and one of the many companies that utilize data for its decision-making. It is reflected by the improvement in the service and its growth could be felt almost nationally, and one of the reasons is nurturing its data personnel and always keeping up with the most recent technologies. Lets deep-dive into the role of Business Intelligence, especially based on how Halodoc leverages this capability for data-driven decision making.
What is Business Intelligence?
Business intelligence (BI) refers to the procedural and technical infrastructure that collects, stores, and analyzes the data produced by a company's activities to obtain accurate, valuable, timely, and actionable business insights to support decision-making.

In order for BI to have an impact, it must accurately reflect the objective goal of the company, adhere to strict standards of correctness, and be trusted by company stakeholders. Without accuracy, BI insights are worthless and potentially harmful to the company.

The information generated by BI must have a valuable impact on the organization, whether in the form of significantly reduced expenses, improved operations, increased revenue, or other positive factors.

Every step to generate business insight takes time, whether it involves microchips or humans. Those time intervals must be short enough in accumulation to maintain the output of a BI process relevant and valuable to a decision maker. The insights generated by the BI team not only are accurate but also have the potential to guide stakeholders in taking future actions.  

BI is a broad term that encompasses data mining, process analysis, performance benchmarking, and descriptive analytics. BI parses all the data generated by a business and presents easy-to-digest reports, performance measures, and trends that inform management decisions.
Why is BI needed for Business?
Because business intelligence tools speed up information analysis and performance evaluation, they're valuable in helping companies reduce inefficiencies, flag potential problems, find new revenue streams, and identify areas for future growth.
Some of the specific benefits that businesses experience when using BI include:
Increased efficiency of operational processes.
Insight into customer behavior and shopping patterns.
Accurate tracking of sales, marketing, and financial performance.
Clear benchmarks based on historical and current data.
Instant alerts about data anomalies and customer issues.
Analyses that can be shared in real-time across departments.
Every day, someone at different levels of any company makes a decision that affects the trajectory of the company, or only a department/team or a single person/project. Making the right decision at the right time can lead to a more efficient operation, a more profitable business, or even a more satisfied customer. So it's inevitable that companies that make better decisions will be more successful in the long run. BI is needed in this situation to help companies make better decisions. Through BI, stakeholders in the company can see things more clearly and get a glimpse of what the future may hold.
How does BI work in Halodoc?
There are four key steps that business intelligence follows to transform raw data into easy-to-digest insights for everyone in the organization to use. The first three—data collection, analysis, and visualization—set the stage for the final decision-making step. Before using BI, businesses had to do much of their analysis manually, but BI tools automate many of the processes and save companies time and effort.
In general, workflow in Data includes :
Collect and transform data from multiple sources.
Business intelligence tools typically use the extract, transform, and load (ETL) method to aggregate structured and unstructured data from multiple sources. This data is then transformed and remodeled before being stored in a central location, so applications can easily analyze and query it as one comprehensive data set.
Uncover trends and inconsistencies.
Data mining, or data discovery, typically uses automation to quickly analyze data to find patterns and outliers which provide insight into the current state of business. BI tools often feature several types of data modeling and analytics—including exploratory, descriptive, statistical, and predictive—that further explore data, predict trends, and make recommendations.
Use data visualization to present findings.
Business intelligence reporting uses data visualizations to make findings easier to understand and share. Reporting methods include interactive data dashboards, charts, graphs, and maps that help users see what's going on in the business right now.
Take action on insights in real time.
Viewing current and historical data in context with business activities gives companies the ability to quickly move from insights to action. Business Intelligence enables real-time adjustments and long-term strategic changes that eliminate inefficiencies, adapt to market shifts, correct supply problems, and solve customer issues. Business Intelligence requires a group effort that includes several professionals, each serving to provide a particular function within the overall BI process.

BI tools used for visualisation at Halodoc:

1. Looker
Looker is a tool that allows its users to explore, share, and visualize the data. Halodoc has several business units (e.g : Consultation & Diagnostic, Pharmacy Delivery) each business unit has their own unique data sets and requirements to support its business. Halodoc BI team deliver it through Looker.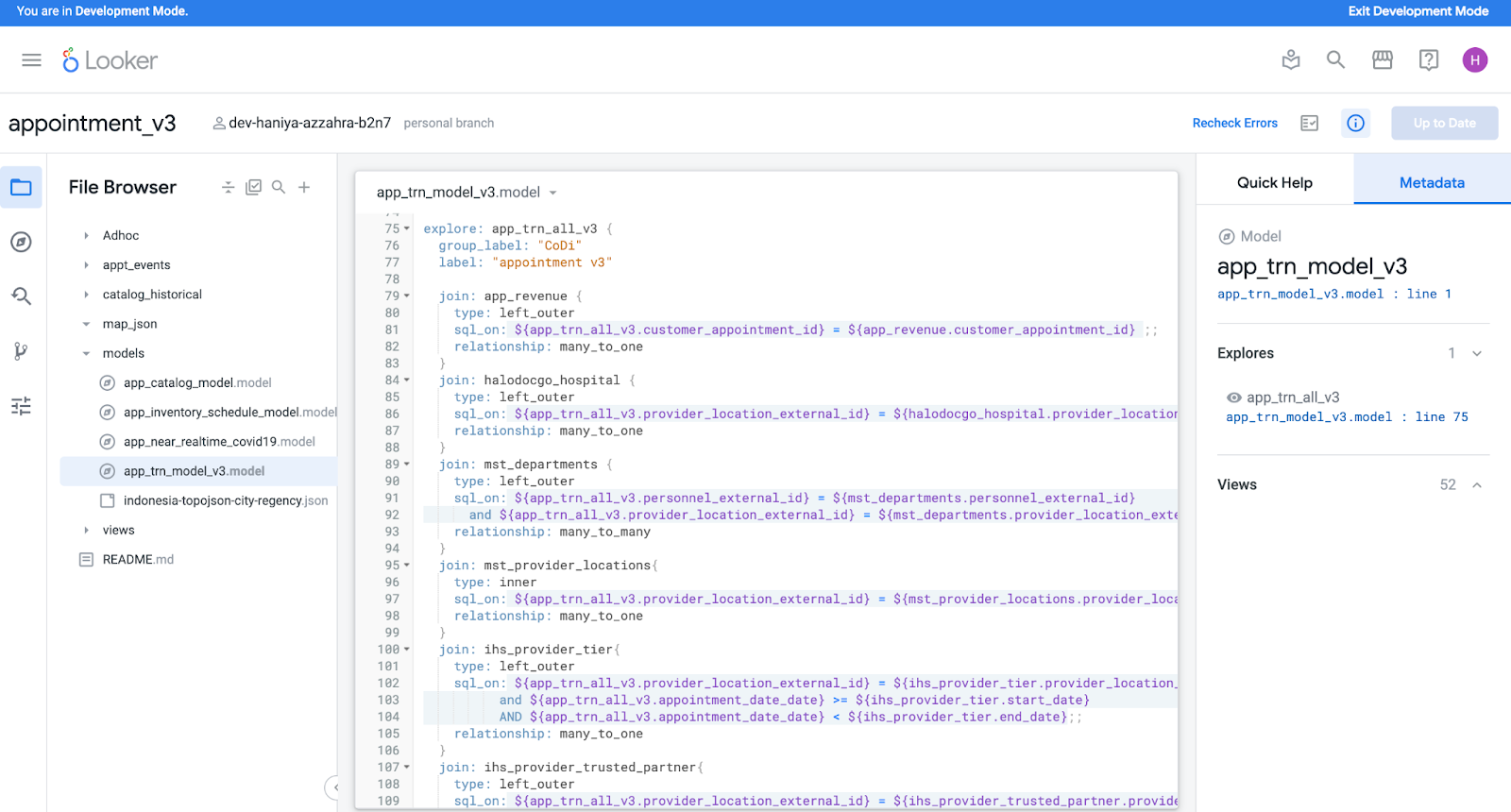 Looker has its own way for data processing, called LookML. The users can used SQL Runner feature to translate from SQL to LookML to set up the needed data.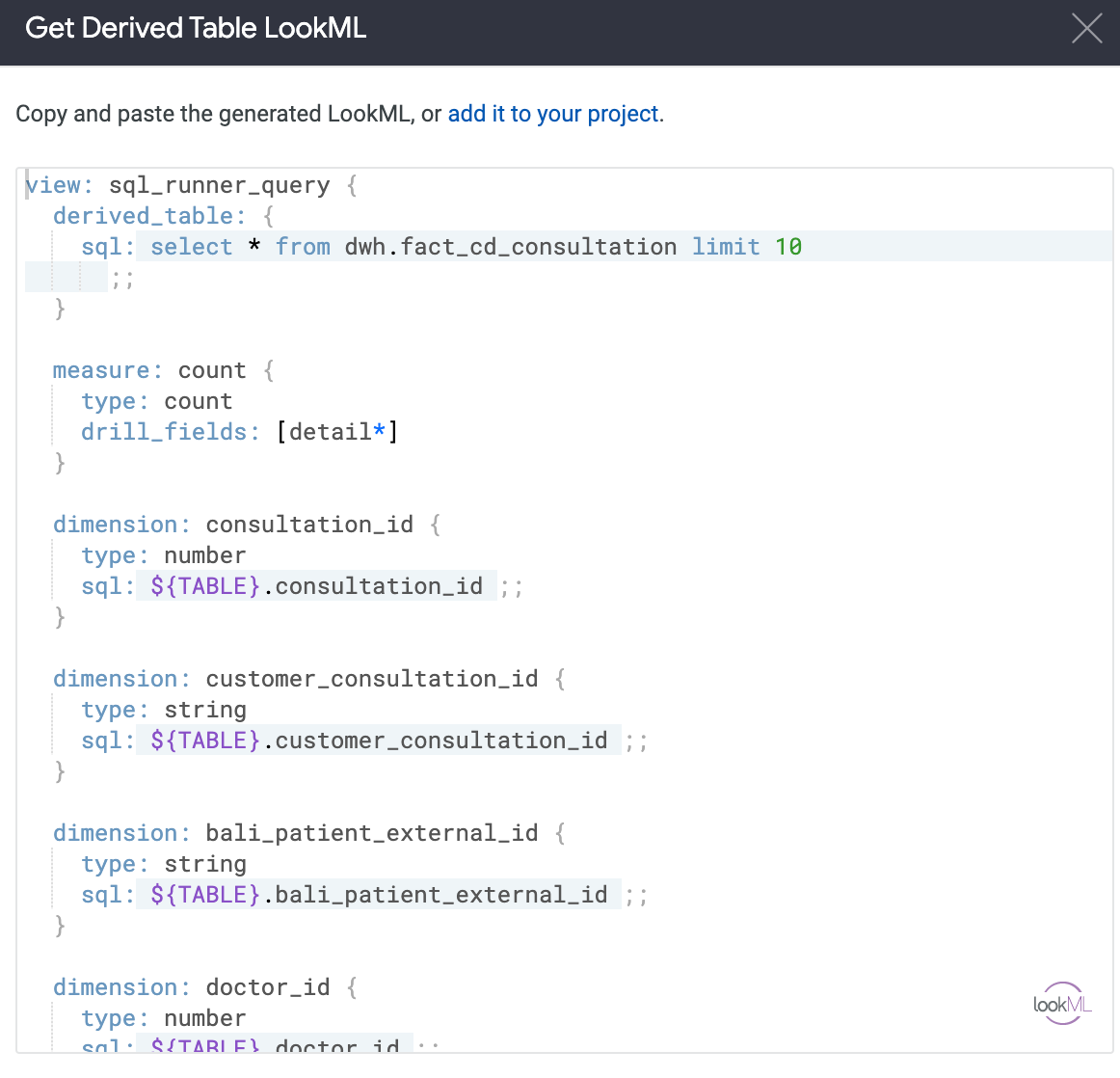 Every data model could be accessed through the Looker menu called Explore.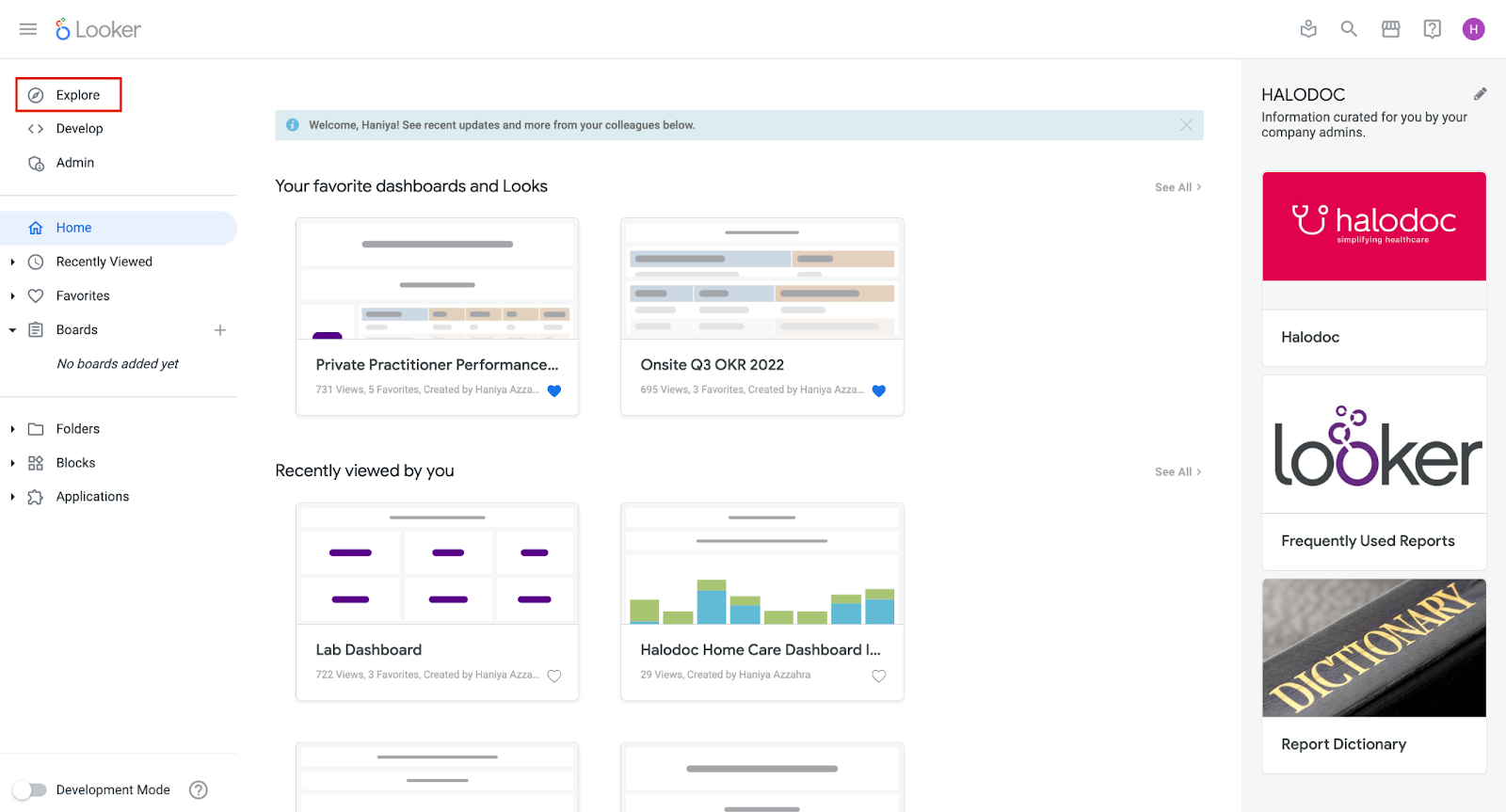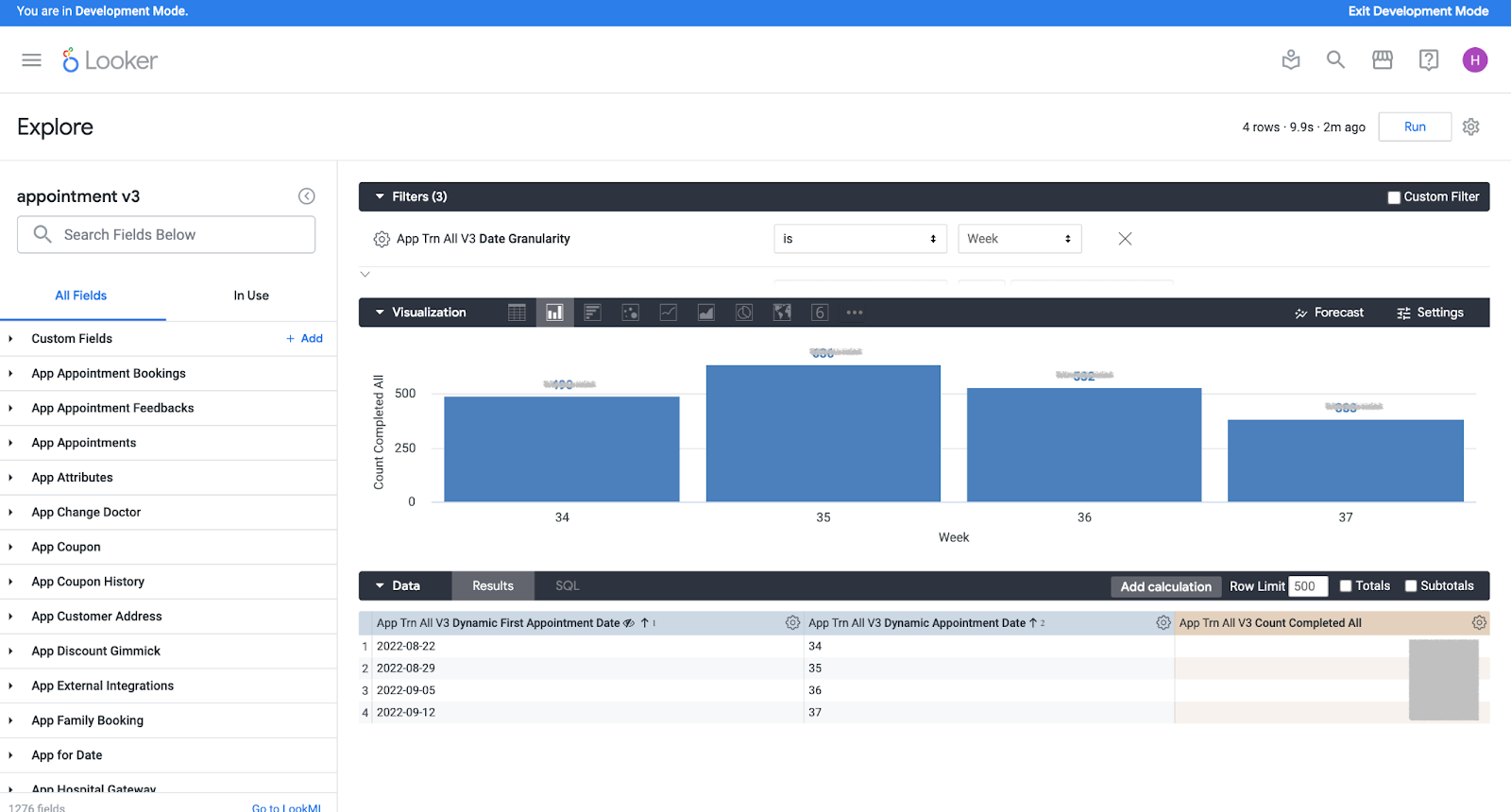 On the Explore page we get to choose which measures and dimensions that we want to visualize. Looker provides custom calculation that enabled us to manipulate the data in a flexible manner. The most important part, Looker offers great variety of visualizations that we can utilize for our output.
2. Metabase
Another BI tool that Halodoc BI team uses called Metabase. The vast majority of Halodoc's data processed in Metabase is for operational purposes.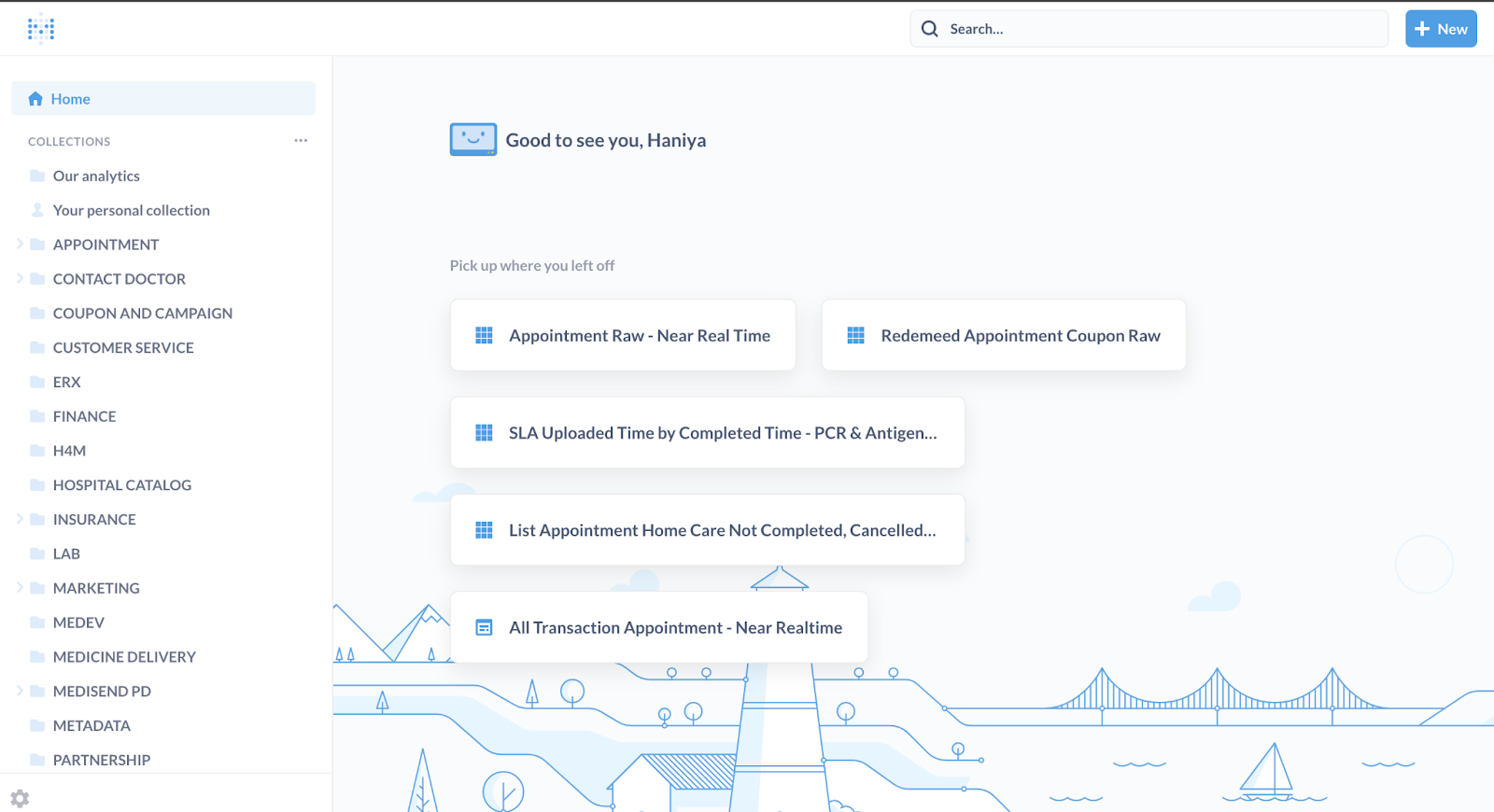 Question, is a template that Metabase offers for data processing. We could write SQL script or make use of its drag-and-drop UI, only then we can set up the expected output with filter and visualization.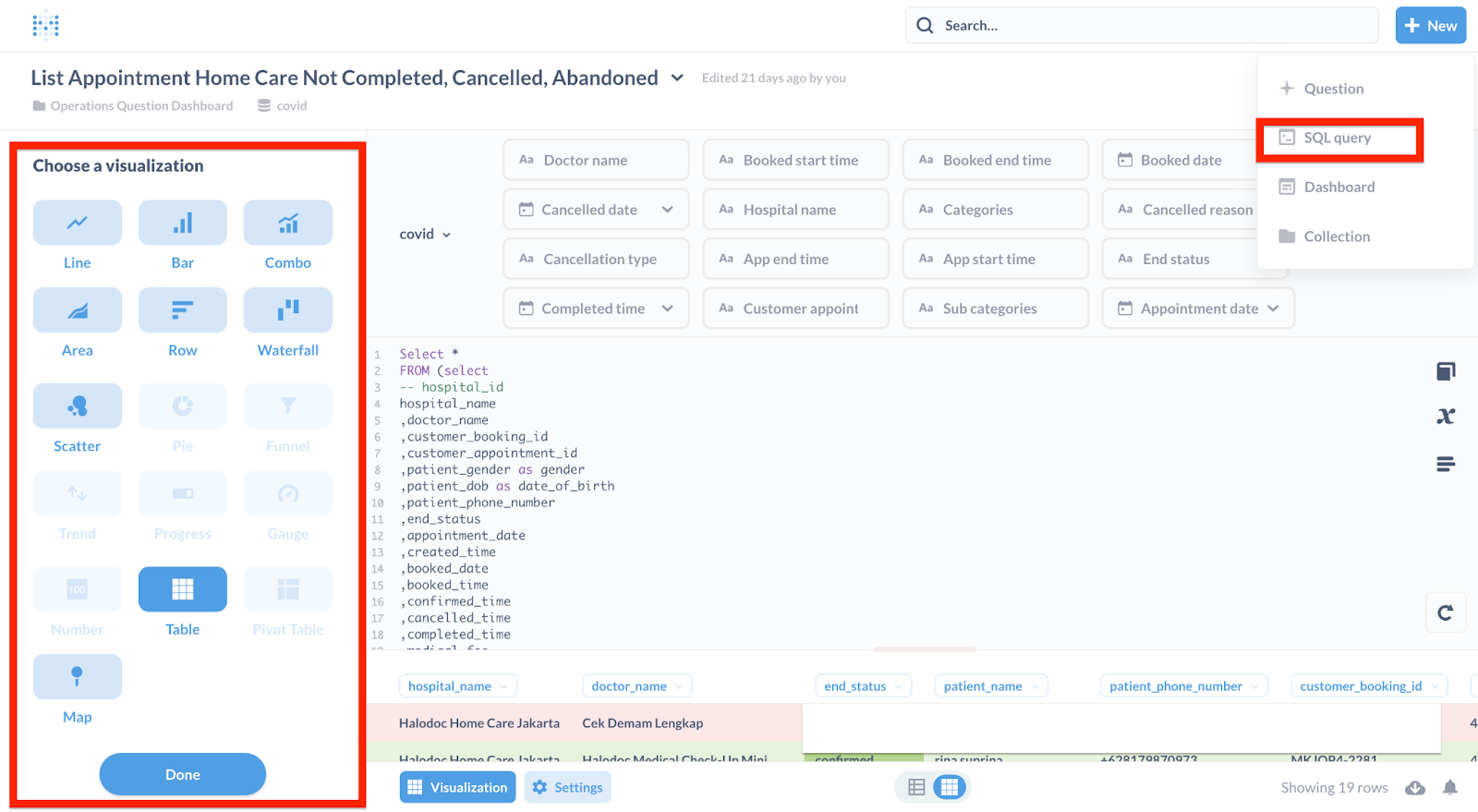 Last Step of this Journey
The dashboard or reports are prepared – Passing the output onto users
Conclusion
Business Intelligence (BI) is a technology-driven process for analyzing data and delivering actionable information that helps executives, managers and workers make informed business decisions. As part of the BI process, organizations collect data from internal IT systems and external sources, prepare it for analysis, run queries against the data and create data visualizations, BI dashboards and reports to make the analytics results available to business users for operational decision-making and strategic planning.

Although both Looker and Metabase are offering similar feature, Looker is more dependable with heavy calculation and data processing side of things where enabled us to conduct deep-dive analysis, and Metabase allowed us to setup a quick dashboards for smaller and light projects for monitoring or one-time data check up.
Join us
Scalability, reliability and maintainability are the three pillars that govern what we build at Halodoc Tech. We are actively looking for engineers and analyst at all levels and  if solving hard problems with challenging requirements is your forte, check Halodoc's Career Page here.
About Halodoc
Halodoc is the number 1 all around Healthcare application in Indonesia. Our mission is to simplify and bring quality healthcare across Indonesia, from Sabang to Merauke. We connect 20,000+ doctors with patients in need through our Tele-consultation service. We partner with 3500+ pharmacies in 100+ cities to bring medicine to your doorstep. We've also partnered with Indonesia's largest lab provider to provide lab home services, and to top it off we have recently launched a premium appointment service that partners with 500+ hospitals that allow patients to book a doctor appointment inside our application. We are extremely fortunate to be trusted by our investors, such as the Bill & Melinda Gates Foundation, Singtel, UOB Ventures, Allianz, GoJek, Astra, Temasek and many more. We recently closed our Series C round and In total have raised around USD$180 million for our mission. Our team works tirelessly to make sure that we create the best healthcare solution personalised for all of our patient's needs, and are continuously on a path to simplify healthcare for Indonesia.