Google Workspace as Collaboration Tools
Halodoc is a fast-growing Health-Tech company and needs a collaboration tool that can make it easier for every user to collaborate on content creation anytime and anywhere. collaboration tools must also be able to guarantee the security of every user on Halodoc. Halodoc chose Google Workspace as a tool to carry out all collaborative activities because the Google Workspace applications can be accessed anywhere and anytime and also has high-security standards that can cover the needs of Halodoc users.
Google LLC is an American company well known as the most popular search engine used by many people in the world. Other than search engine Google's business covers cloud computing, online advertising, computer software, artificial intelligence, quantum computer, e-commerce, and consumer electronics. One of the most popular tools used by the company is Google Workspace (formerly GSuite). Google Workspace is part of Google cloud computing which provides custom email for business and includes collaboration tools like Gmail, Drive, Calendar, Meet, Docs, Sheet, Slides, Form, and many more. Google Workspace also offers pricing plans to the company. For licenses will affect the feature that google offered to users such as drive storage, security feature, and more.​
Admin Google Workspace can turn on or off applications based on the needs of the company.
Example feature apps on Google Workspace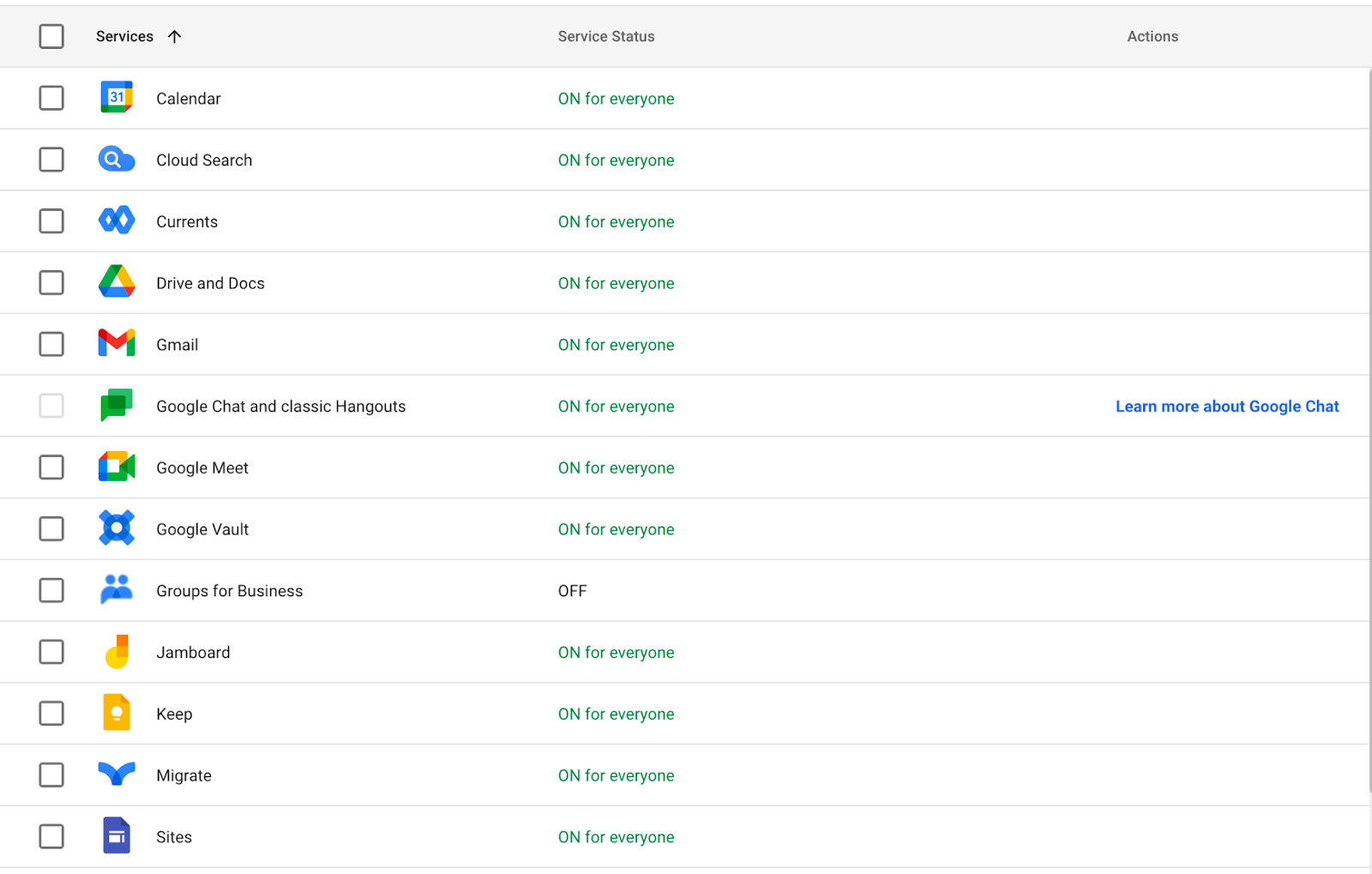 Security on Google Workspace
Admin Google Workspace can custom security settings related to company policy such as turn on/off 2-step verification, Password length for the account, data protection, data classification, session control, and more.
For securing accounts, the admin of Google Workspace is required for setting 2-step verification to all employee accounts, 2-step verification setting not only uses SMS but users can setup using Google Authenticator.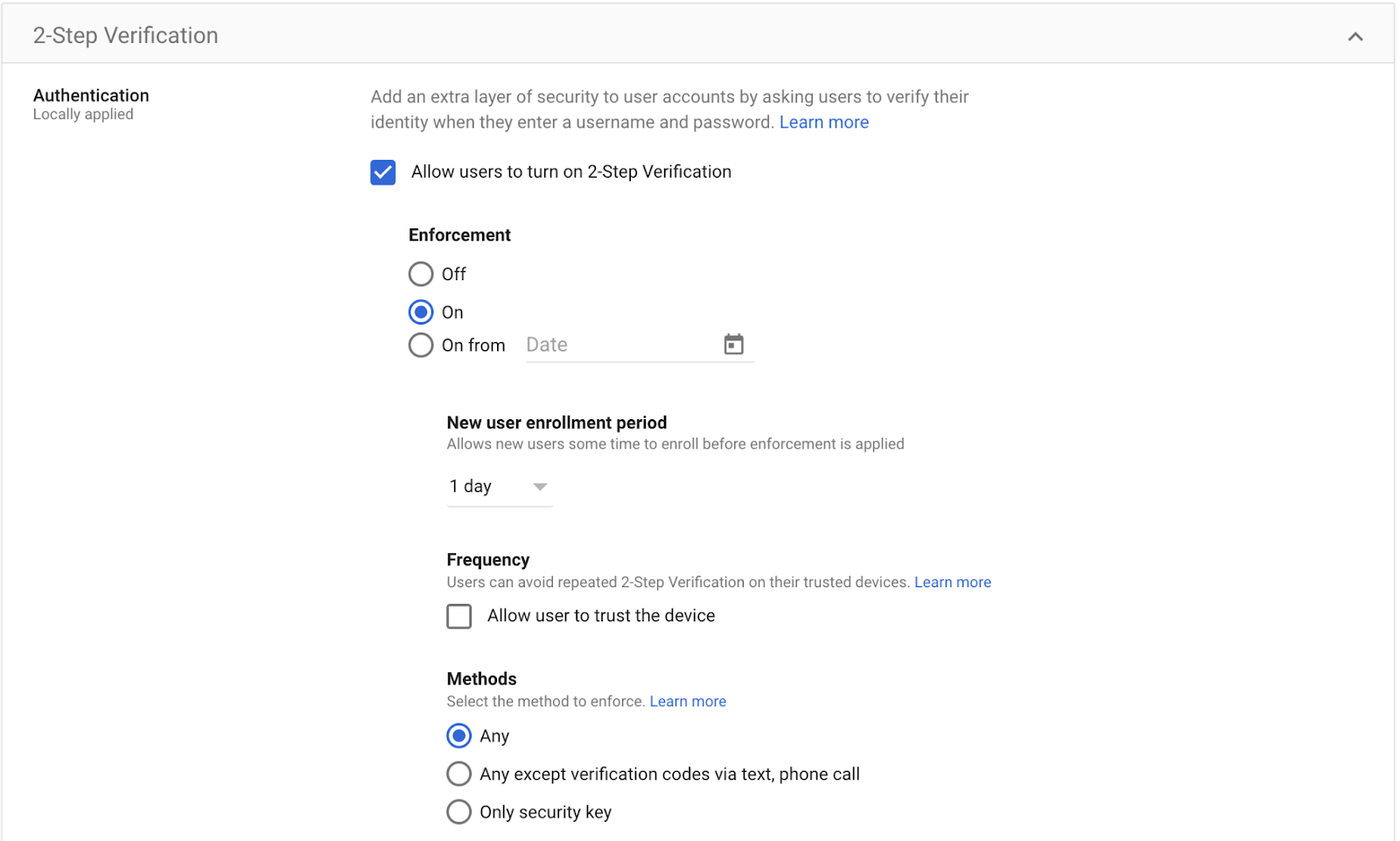 Security settings for password length configuration can be customized based on company policy or regulation.
Example of password length configuration on Google Workspace
Google Workspace can be an SSO solution for 3rd party applications, SSO makes users securely authenticate with multiple applications and websites using just a one-click log-in. SSO provides a seamless experience to users. Instead of having to remember a lot of credentials to applications, users can simply log in to each application with a single click.
Example setting SSO on Google Workspace

Security settings for data Protection on Google Workspace can identify sensitive content sent out from the company. Data protection can implement on Gmail or Drive by following template rules or using custom regular expression
Configuration data protection blocking personal health information sharing outside the organization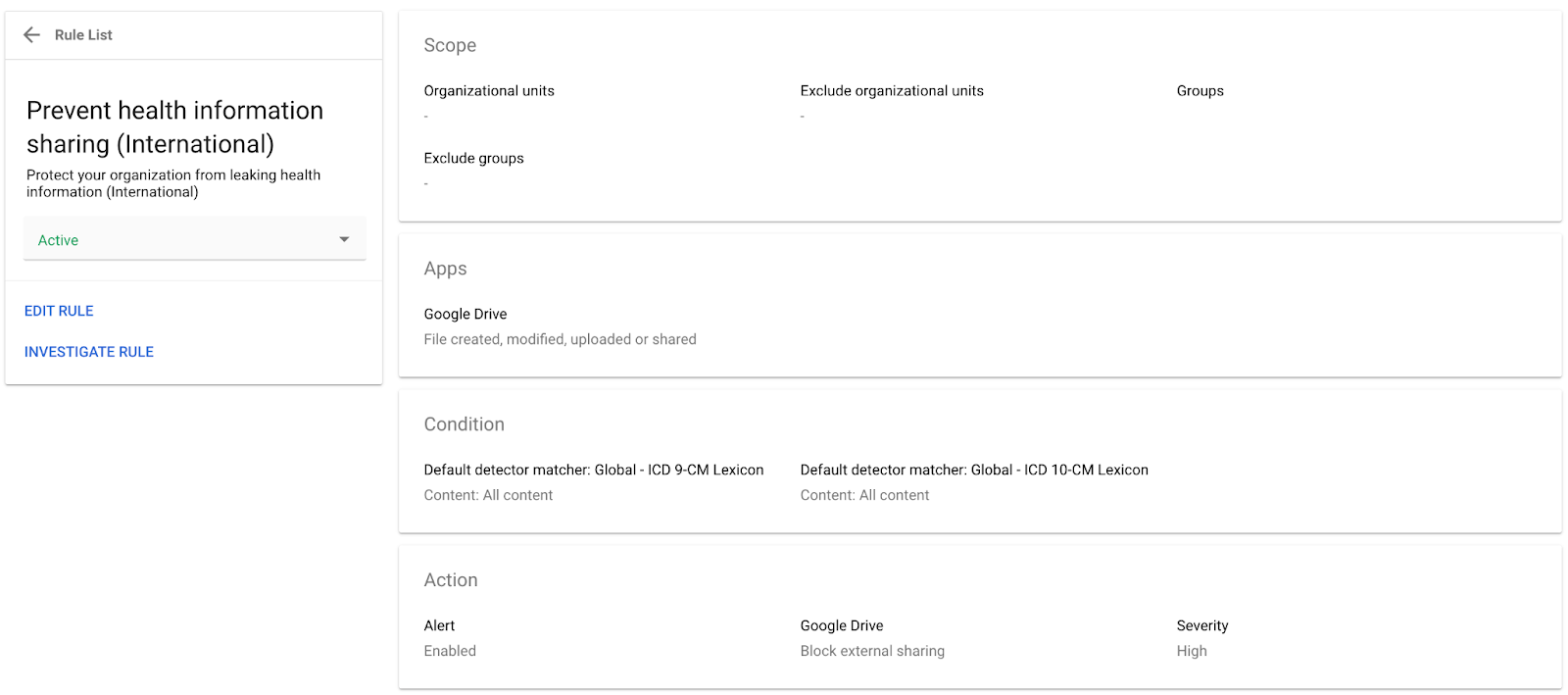 Security setting device management offered by Google Workspace can cover Android, iOS, and Windows Devices. Especially for Windows, users must install GCPW (Google Credential Provider for Windows) agent on devices. For Android and iOS, just need to integrate the company account with the Google mail client and automatically create a work profile. Work profile configured to manage company data only and will not mix company data and personal data. Device management on mobile devices only allows users to save all data or documents on their work profiles. Users cannot download and save company data directly to their storage devices.
Configuration on Android device management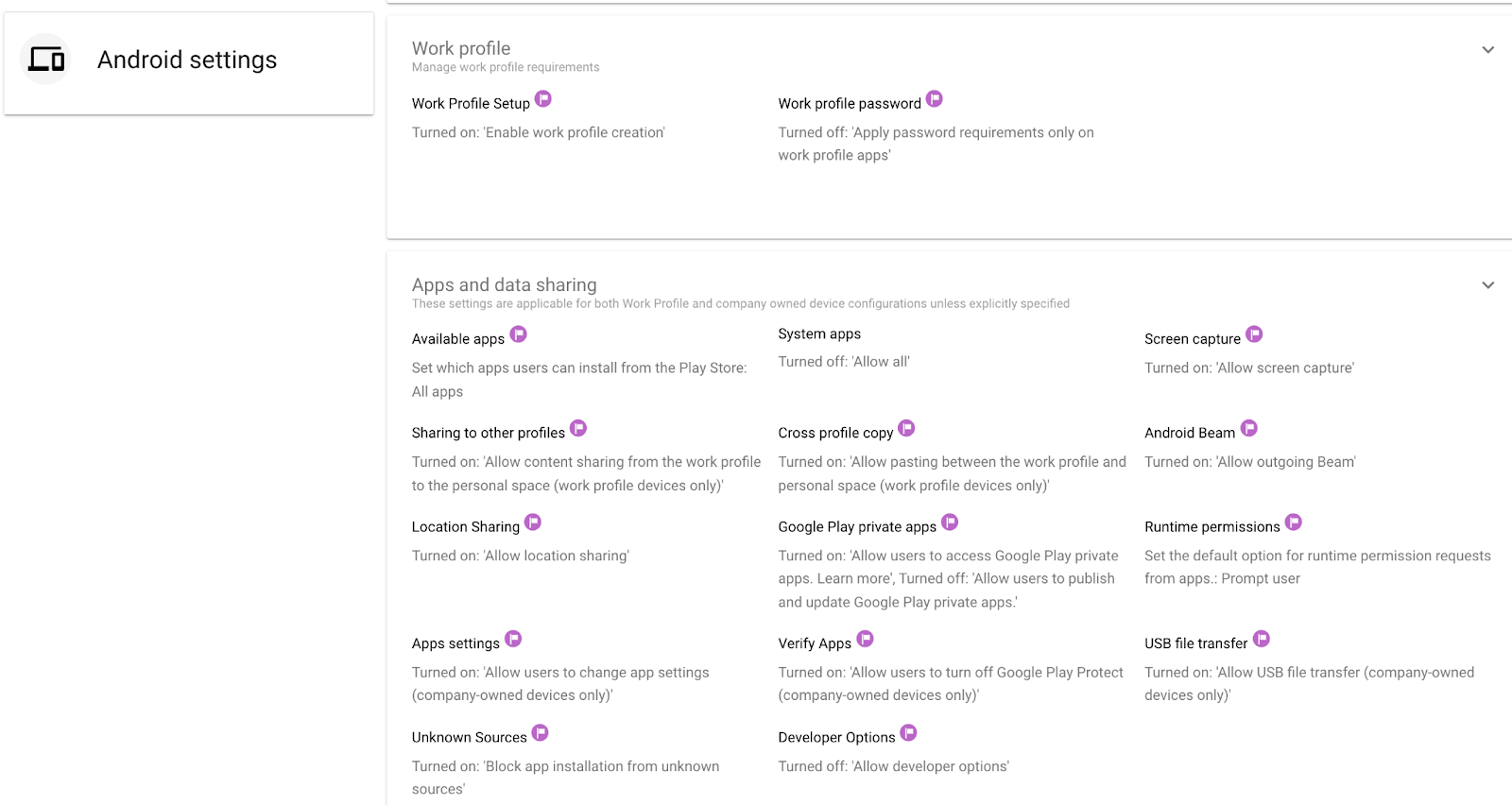 Configuration on iOS Device Management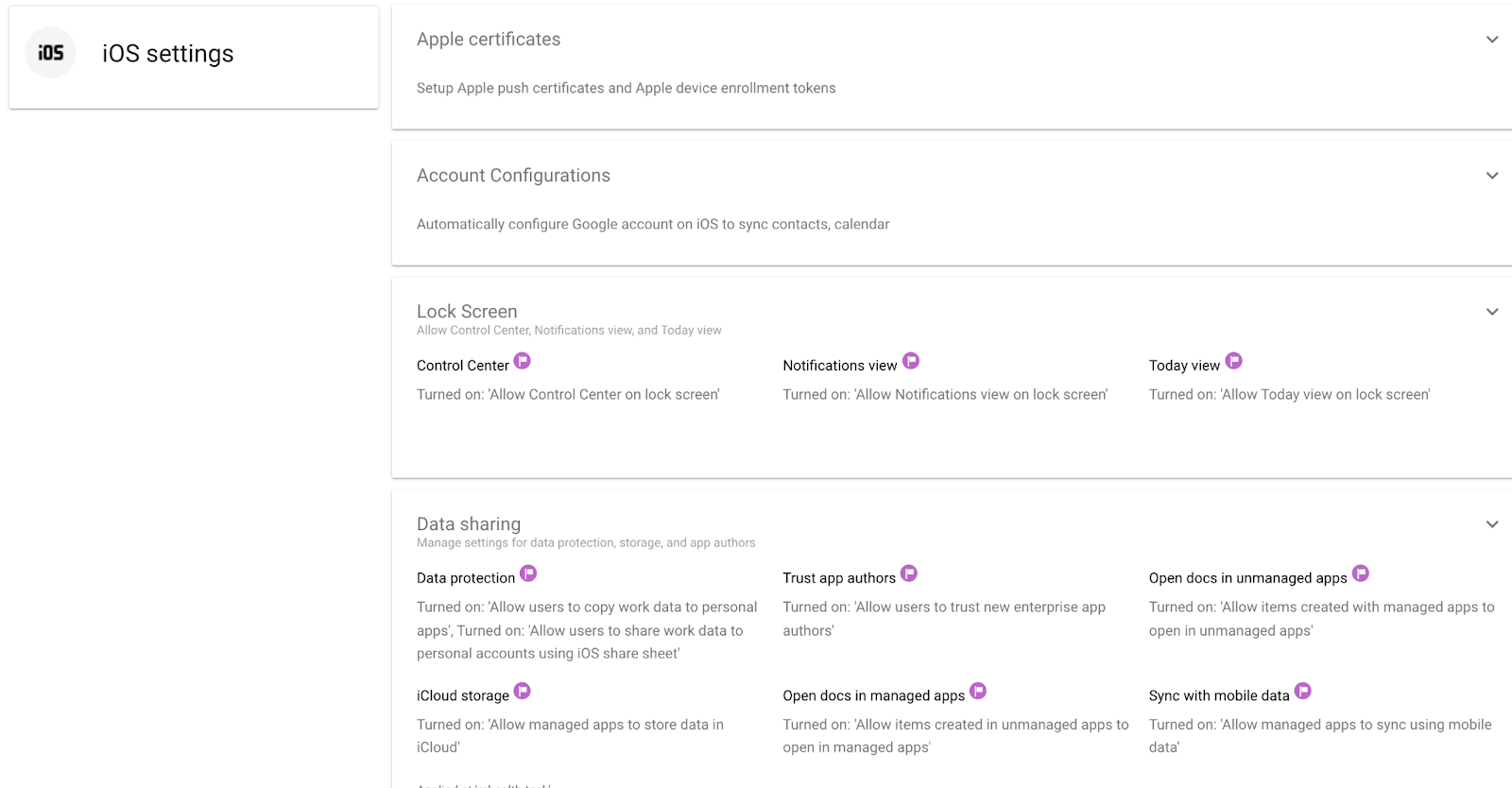 Configuration on Windows Device Management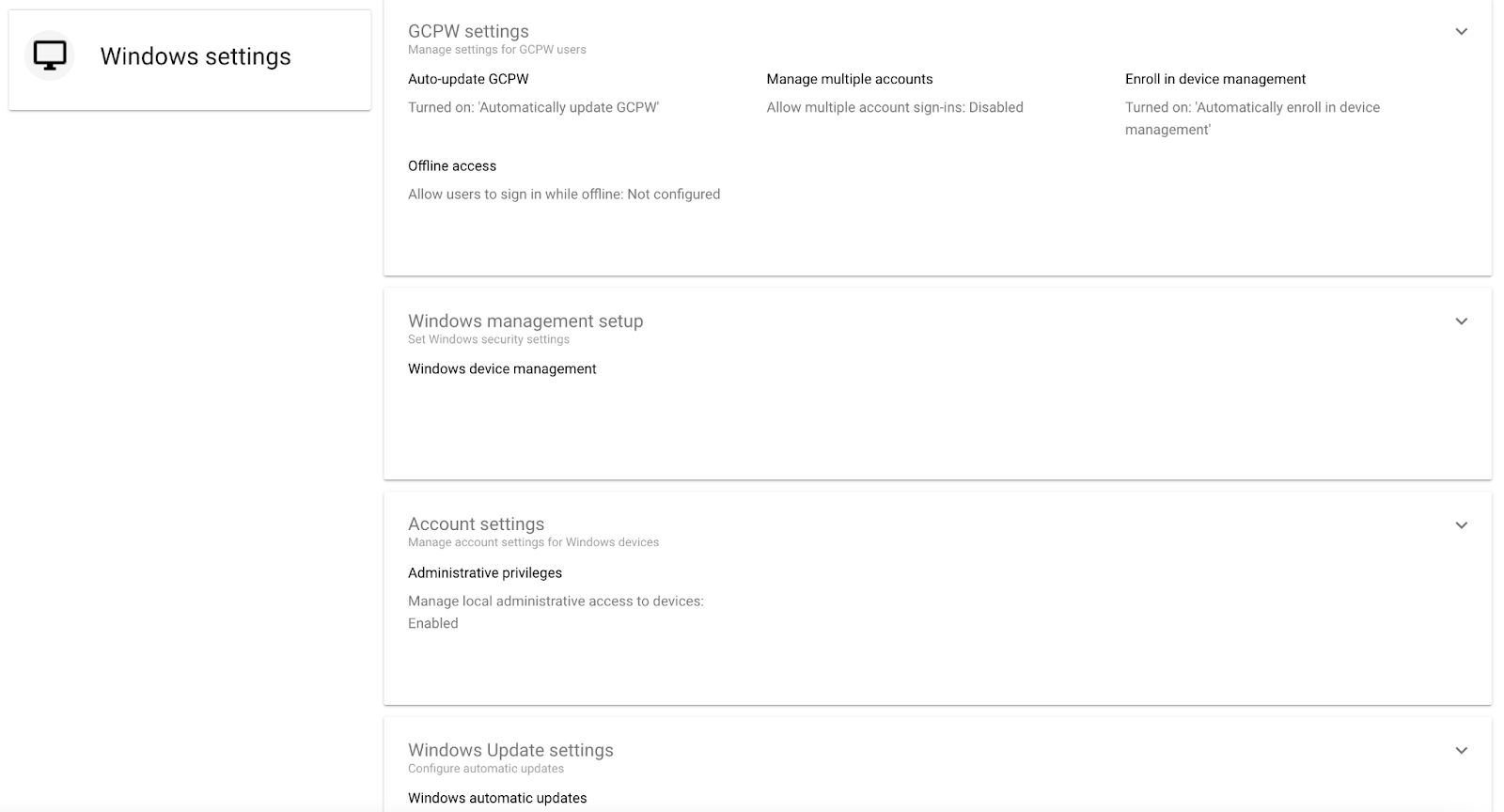 Collaboration Application on Google Workspace


Gmail
Gmail is a webmail service provided by Google. On Google workspace, administrators can customize policy on Gmail based on company regulations. The benefit of using Gmail in Google Workspace is you can customize your domain email address following the company name. For the Google Enterprise license, users will get unlimited storage space for email and customize all policies on Gmail such as quarantine, safety, spam filtering, and more.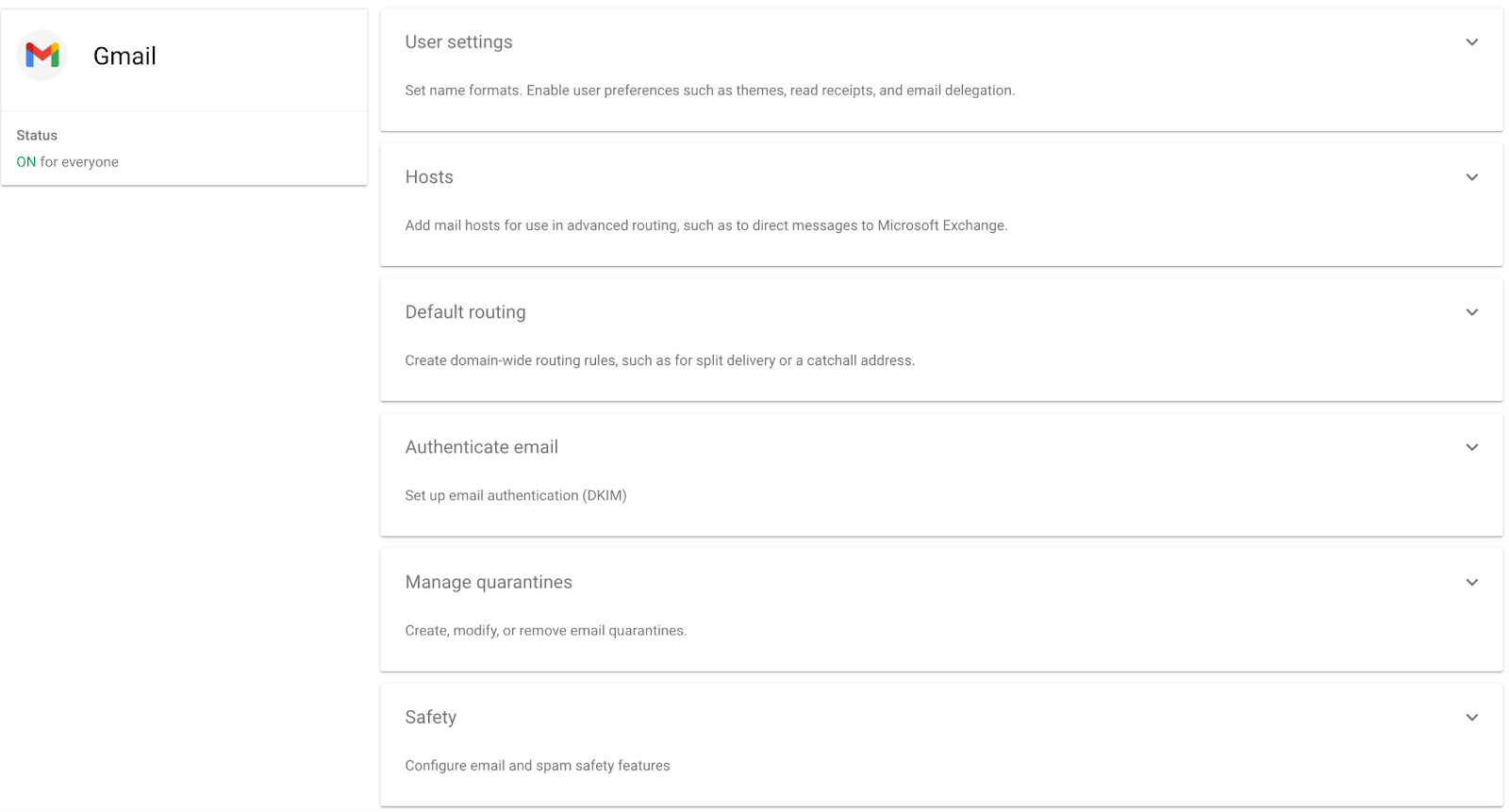 Google Drive
Google Drive is online storage provided by Google. On Google Drive, users can store files and share files with others. Google Drive allows users to set permission to share as a viewer, editor, or transfer ownership to other users. Google Drive also can integrate with Google Docs, Google Sheet, and Google Slide for collaboration with other users to create real-time content to make it more efficient. Google Drive can convert files from Microsoft office with google applications. Google Drive can be the solution to sending big files which cannot be sent by email.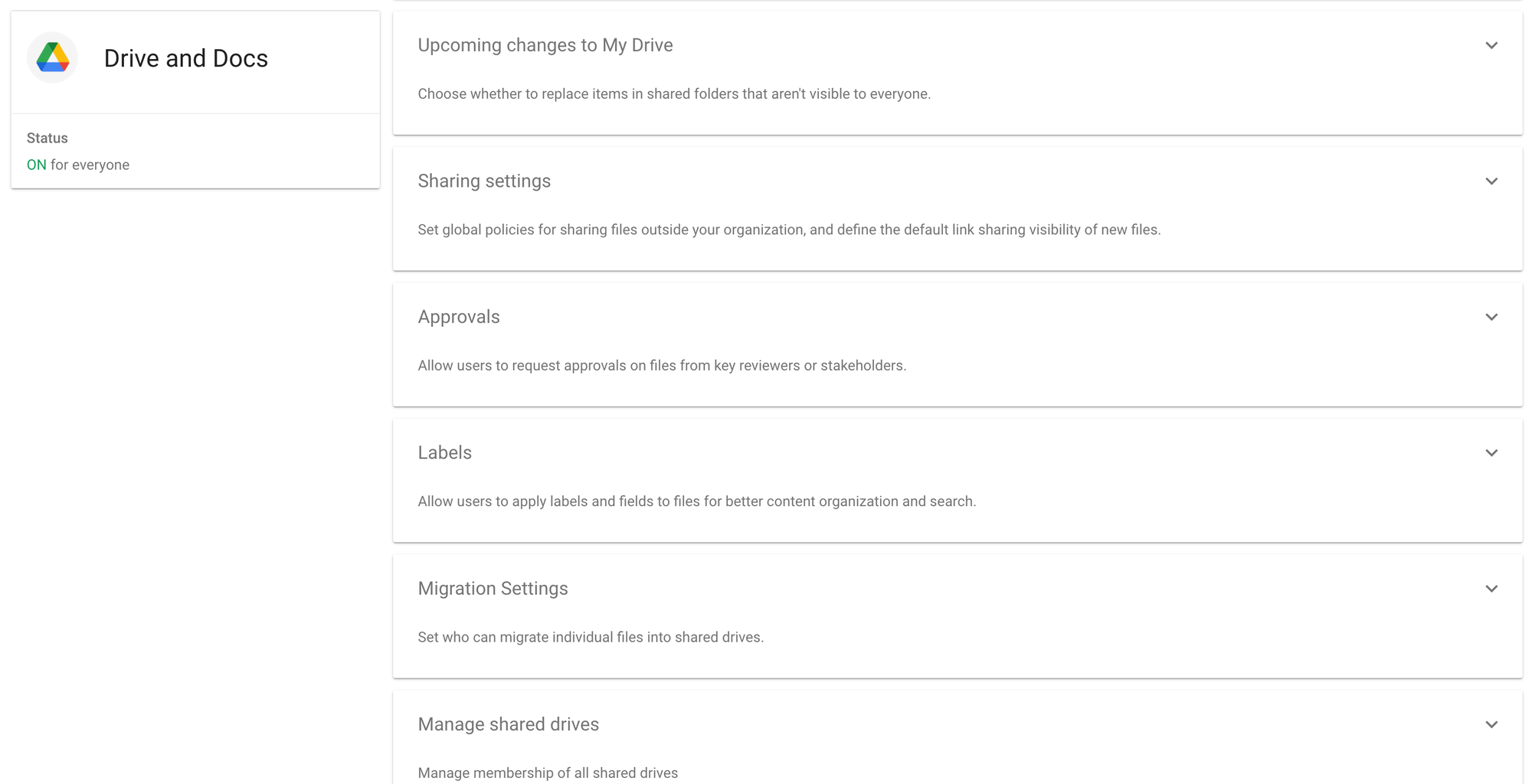 Google Meet
Google meet is a collaboration tool provided by Google has feature video call meetings or conferences of more than 100 users, especially for Enterprise License the audience's maximum is 500 users. All meetings are encrypted which provide by Google. Not likely other meeting collaboration tools, Google Meet is not required to install any special application or plugin installed on devices since all meetings can be opened through any browser. Google Meet has features like noise cancelation during sessions, video call resolution up to 720p, live caption based on speech recognition, and can integrate with Google Calendar to have notification and one-click joining meetings. Detail Google meet feature update can refer to this link
Creating Google Meet on Calendar
Open link calendar.google.com, click Create and choose the event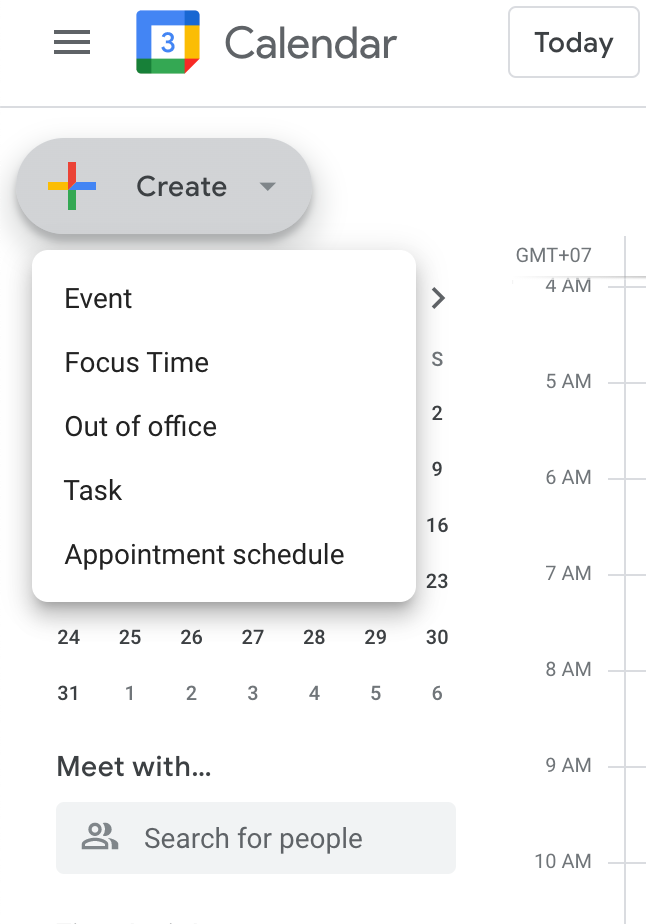 2. At the event, choose the audience and click find time to find the right time to set up the meeting. Since the Google Calendar can find empty slot times between user and audience on Company.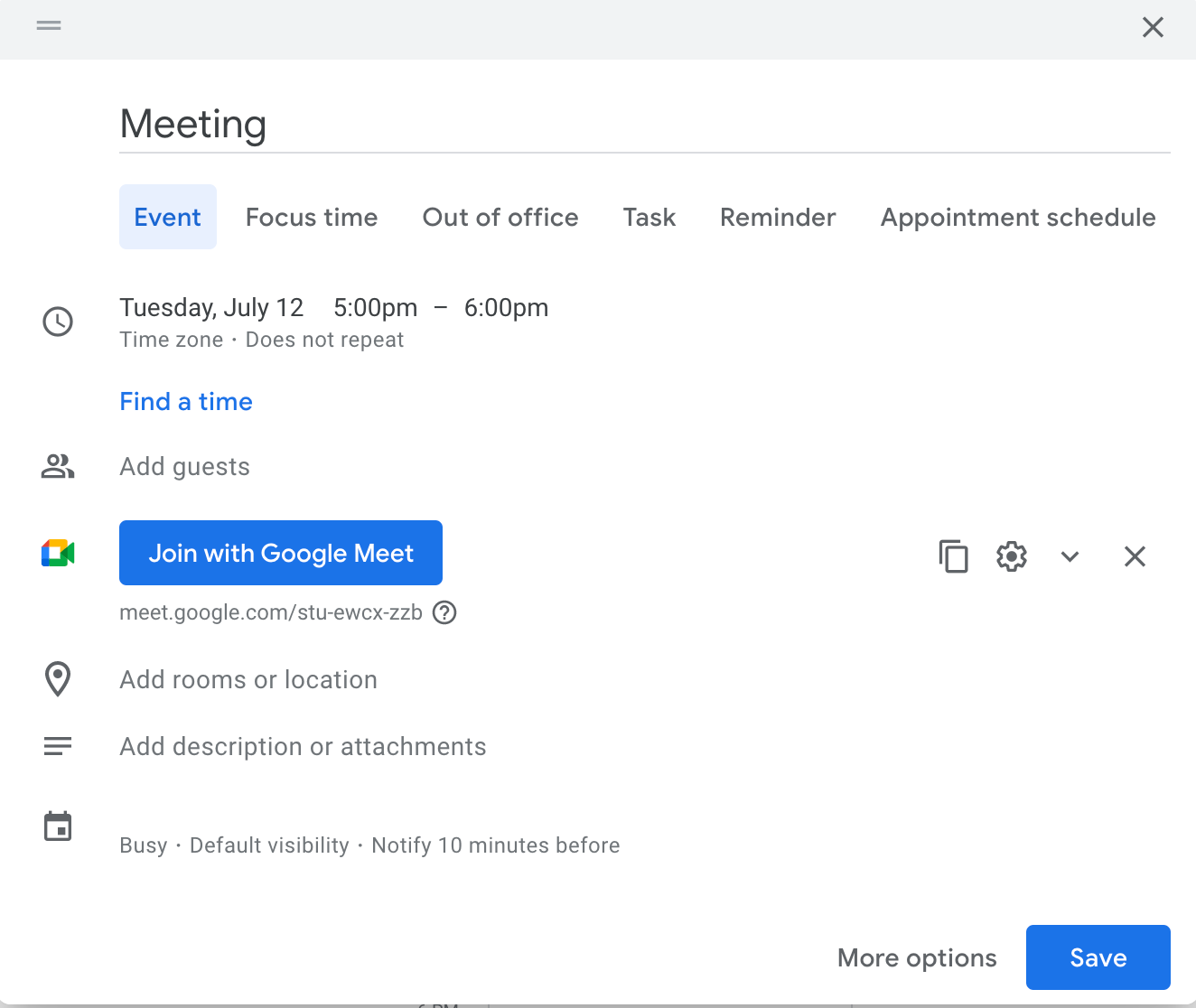 3. Click Save, and notification and calendar event will be sent to the audience.
Google Form
Google Form is a survey tool provided by Google which can create an online questionnaire or form easily as creating documents. Users can create forms based on templates provided by Google or create forms from scratch. After creating the form, the user can distribute files through the link form through instant messenger, email, and more.
How to create Google Form
Open Google Form https://docs.google.com/forms/u/0/?tgif=d
Click new form or click templates provided by Google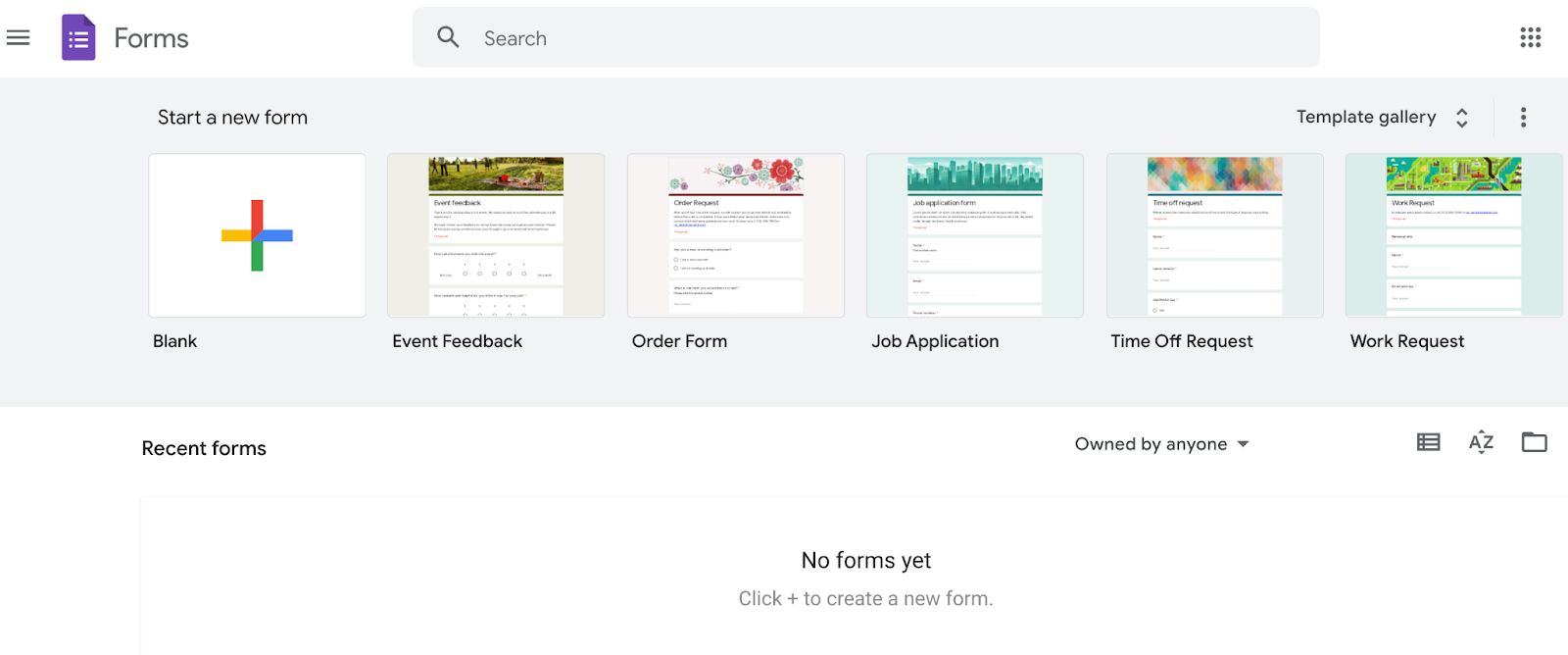 3. Custom the form according to the purpose form (survey, questionnaire, job form, etc)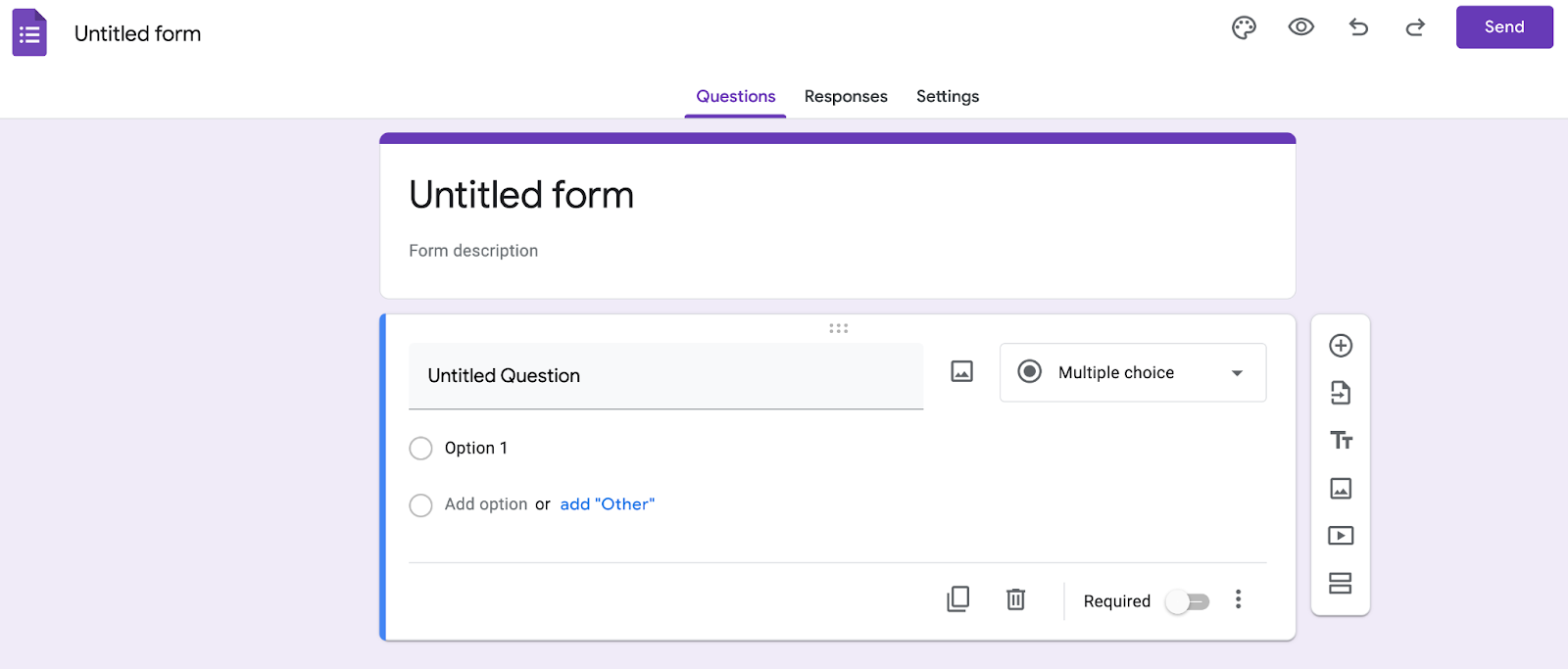 4. After finishing the form, users can generate links for distributing to the audience
5. Users can generate reports automatically based on responses from the audience
Conclusion
In this blog, we learn about bird views Google Workspace as a collaboration tool with amazing features to make easily create content anywhere and everywhere without worrying about security features to the content. You can easily share files, real-time collaboration, easily setup meetings, and send surveys or forms to any audience across the company.
About Halodoc
Halodoc is the number 1 all-around Healthcare application in Indonesia. Our mission is to simplify and bring quality healthcare across Indonesia, from Sabang to Merauke.
We connect 20,000+ doctors with patients in need through our Tele-consultation service. We partner with 1500+ pharmacies in 50 cities to bring medicine to your doorstep. We've also partnered with Indonesia's largest lab provider to provide lab home services, and to top it off we have recently launched a premium appointment service that partners with 500+ hospitals that allows patients to book a doctor appointment inside our application.
We are extremely fortunate to be trusted by our investors, such as the Bill & Melinda Gates Foundation, Singtel, UOB Ventures, Allianz, Gojek, and many more. We recently closed our Series B round and In total have raised USD$100million for our mission.
Our team work tirelessly to make sure that we create the best healthcare solution personalised for all of our patient's needs, and are continuously on a path to simplify healthcare for Indonesia.